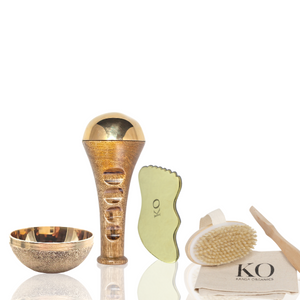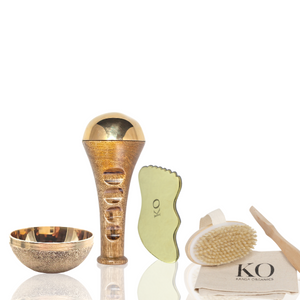 On Sale
Regal Ritual Set
Indulge in the Regal Ritual kit and experience the ultimate body rejuvenation. This luxurious set includes a Kansa Vatki, Om Kansa Wand, Kansa Nadis Gua Sha, and Garshana Body Dry Brush, perfect for giving the gift of a royal treatment. Enjoy deep relaxation and improved well-being with this unique set, a perfect Mother's Day present.
Includes:
1 - Kansa Vatki
1 - OM Kansa Wand
1 - Kansa Nadis Gua sha
1 - Garshana Dry brush
LIMITED EDITION

Our seasonal gift sets are limited edition, available at a discounted price exclusively on special occasions.
Upgrade your skincare routine and give yourself the overall wellness care it deserves with our Ayurvedic essentials.
We take pride in our mission to stay kind.
______________
WARNING: Any unfavorable result due to improper use and unrecommended application of the tool or any of our products to the body areas is neither the responsibility of Kansa Organics nor its affiliates.
The above statements have not been evaluated by the Food and Drug Administration. This item is not intended to diagnose, treat, cure, or prevent any disease.