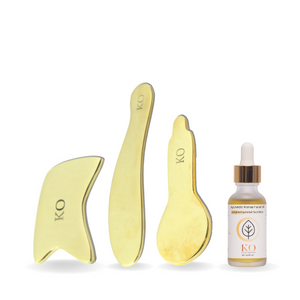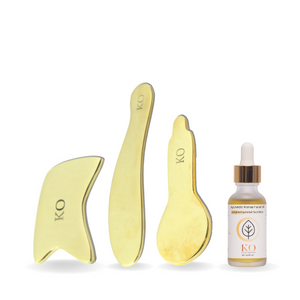 On Sale
Glow Getter - Gua Sha Facial Set
The Glow Getter facial ritual is the ultimate luxury for your facial needs. Our carefully curated set of 3 facial gua shas and a free doshic facial oil (of your choice) help you relax, revive and restore your skin, leaving you with an undeniably luminous complexion that glows from the inside out.
Includes:
1 - Facial Blade Gua Sha
1 - Facial Spoon Gua Sha
1 - Facial Acu-Gua Sha
1 - Doshic Facial Oil (of your choice: Kapha, Vata, Pitta)
LIMITED EDITION
Our seasonal gift sets are limited edition, available at a discounted price exclusively on special occasions.
Upgrade your skincare routine and give yourself the overall wellness care it deserves with our Ayurvedic essentials.
We take pride in our mission to stay kind.
______________
WARNING: Any unfavorable result due to improper use and unrecommended application of the tool or any of our products to the body areas is neither the responsibility of Kansa Organics nor its affiliates.
The above statements have not been evaluated by the Food and Drug Administration. This item is not intended to diagnose, treat, cure, or prevent any disease.