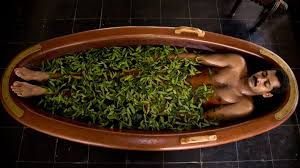 Read Time: 3 minutes
When I first was introduced to the spa industry, I was not very familiar with the purpose of facial massage. I didn't have a clear understanding of the role that it plays in detoxifying the skin or the benefits it could attribute to the overall appearance of the skin. When I started researching tools used for massage by Ayurvedic practitioners, I found a wealth of knowledge associated with the Kansa Wand.
Facial Massage Stimulates Blood Circulation: Facial massage promotes blood circulation in the skin and boosts it's overall health. The better the blood circulation, the better able nutrients in your blood can promote skin-cell rejuvenation, which in turn results in younger-looking skin.
Support Healthy Aging: Before investing in expensive "anti-aging" creams that sit on the surface of the skin, try massage. In order to get the greatest benefit from your products, include facial massage in your routine to promote the absorption of topical ingredients and reduce the visibility of fine lines and wrinkles.
Improved Skin Elasticity and Collagen Production: Many skin conditions, from laxity to overall textural concerns, result from the rate at which collagen and elastin are being produced. Collagen and elastin production naturally slows down over time. Facial massage alone can combat this by stimulating fibroblasts, which are necessary to support healthy skin. You can use the Kansa Wand for an effective facial massage that can give collagen and elastin production a boost, improve firmness, and make your skin look it's absolute best.
Get Rid of Under-Eye Bags and Dark Circles: Vitamin K deficiency, dilated blood vessels, and water retention are the primary causes of dark circles and puffy eyes. Regular lymphatic focused massage can promote stagnant fluid to move out through the lymphatic system, allowing for toxins to be flushed out and puffiness to be reduced.
Skin Detoxification: Our skin reflects how often we are exposed to a variety of harmful impurities. Both internal and external factors like polluted air, water, and food can lead to an abundance of free radicals, which can cause damage to the skin over time. Intentionally promoting the detoxification process can be beneficial to our overall health. By consistently massaging the face with the Kansa Wand and using the appropriate Ayurvedic Oils, we can support the body's natural ability to flush out these toxins through the lymphatic system.
Vibrant, Healthy Skin: Let your skin glow from the inside out. Your beauty regimen will be much more effective with the incorporation of the Kansa Wand. Consistent facial massage can act as a kind of "facial workout" that has the potential to rejuvenate your skin wholistically.
We hope you get to try!
Kara Elizabeth Adams, LE
For more details visit - https://www.kansaorganics.com/