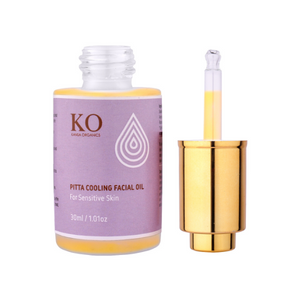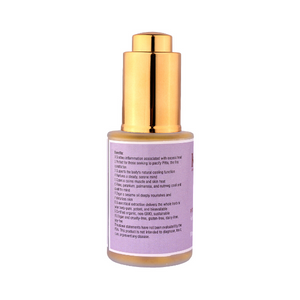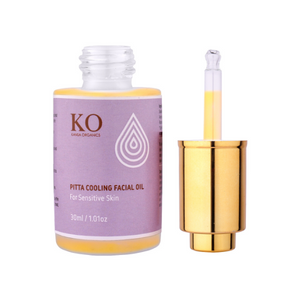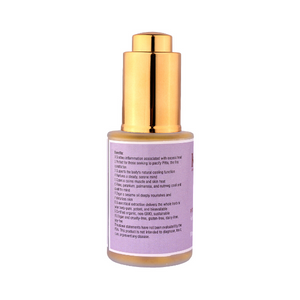 On Sale
PITTA COOLING FACIAL OIL
PITTA Dosha: For Sensitive Skin
Descriptions: 
Our Pitta facial oil is a velvety blend of Rose, Geranium, Palmarosa, Cyprus, and Nutmeg combining the herbal properties which work to clear heat by strengthening the cooling functions on the skin. Herbs are extracted using innovative supercritical technology.
BENEFITS:
Cools the skin and calms the mind.

Perfect for those seeking to pacify and balance Pitta, the fire constitution.

Soothes inflammation associated with excess heat
Supports the body's natural cooling function
Nurtures a steady, serene mind
Cyperus calms muscle and skin heat
Rose, geranium, palmarosa, and nutmeg cool and quiet the mind
Organic sesame oil deeply nourishes and moisturizes skin
Supercritical extraction delivers the whole herb to your skin—pure, potent, and bioavailable
Excellent for use as an all-over moisturizer.
Specially formulated for your daily facial massage ritual.
Promotes healthy energy flow within the system
Alleviates congestion and lymph stagnation
Revitalizes the skin
 To Use: Apply liberally after a bath or after merely washing the face. This can be used as a moisturizer, cleansing oil, and facial massage oil. Begin applying a generous amount and in a gentle massaging motion.
To stimulate lymph flow and detoxification, refer to the protocols below:
Ingredients:
Sesame Oil*, Cyperus*, Rosa centifolia*, Geranium*, Anantmul*, Nutmeg*, Palmarosa*, Vitamin E, Rosemary Extract*
*Signifies Certified Organic Supercritical (CO2 extracted)
Note:
Made using quality Co2 Extracts
Dairy, Gluten, Wheat & Soy Free
Made from Non-GMO herbs 
The above statements have not been evaluated by the FDA. This product is not intended to diagnose, treat, cure, or prevent any disease.
We take pride in our mission to stay kind.
So soothing to use
I love the cooling sensation this oil provides. It's so soothing and refreshing to apply after a day in the sun.
Perfect for combi skin
This facial oil is perfect for anyone with combination or oily skin. It's lightweight yet nourishing.
Winner!
The Pitta cooling facial oil has helped reduce redness and inflammation on my skin. It's a game-changer for anyone with sensitive skin.
Love all natural oils!
I appreciate that this facial oil is cruelty-free and vegan. It's important to me to support companies that align with my values.
Effective! Love it
I have oily, acne-prone skin, but this facial oil doesn't cause any irritation or breakouts. It's gentle yet effective.