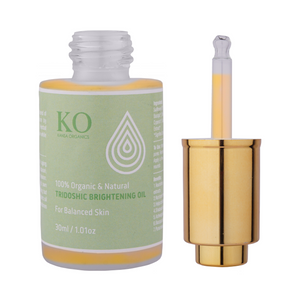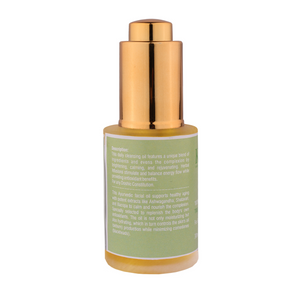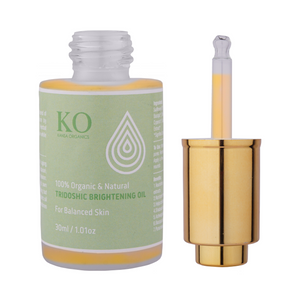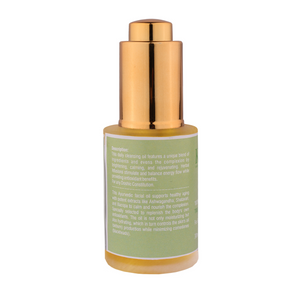 On Sale
TRIDOSHIC BRIGHTENING FACIAL OIL
Tridosha: For Balanced Skin
Descriptions: 
This tridoshic brightening facial oil features a unique blend of highly Ayurvedic potent ingredients and is perfect for any doshic constitution. Herbal infusions stimulate and balance energy flow while providing antioxidant benefits. These also even the complexion by brightening, calming, and rejuvenating.
This Ayurvedic facial oil supports healthy aging with potent extracts like Ashwagandha, Shatavari, and Bacopa to calm and nourish the complexion. Specially selected to replenish the body's own antioxidants. The oil is not only moisturizing but also hydrating, which in turn controls the skin's oil (sebum) production while minimizing comedones (blackheads).

BENEFITS:
Nourishes younger-looking skin with 9 powerful herbal extracts
Nurtures smooth skin by plumping lines and wrinkles
Helps control oil production
Shatavari rejuvenates and promotes firmness
Ashwagandha restores and revitalizes
Bacopa calms and soothes

Punarnava energizes and warms

Supercritical extraction delivers the whole herb to your body—pure, potent, and bioavailable
To Use:
 Apply liberally after a bath or after merely washing the face. This can be used as a moisturizer, cleansing oil, and facial massage oil. Begin applying a generous amount and in a gentle massaging motion.
To stimulate lymph flow and detoxification, refer to the protocols below:
Ingredients:
Sesame Oil*, Cyperus*, Rosa centifolia*, Geranium*, Anantmul*, Nutmeg*, Palmarosa*, Vitamin E, Rosemary Extract*
*Signifies Certified Organic Supercritical (CO2 extracted)
Note:
Made using quality Co2 Extracts
Dairy, Gluten, Wheat & Soy Free
Made from Non-GMO herbs/Certified organic
The above statements have not been evaluated by the FDA. This product is not intended to diagnose, treat, cure, or prevent any disease.
We take pride in our mission to stay kind.