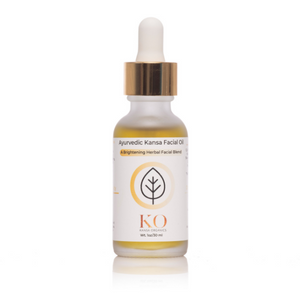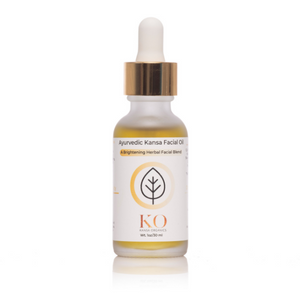 On Sale
Ayurvedic Facial Brightening Kansa Oil
This daily cleansing oil features a unique blend of ingredients and evens the complexion by brightening, calming, and rejuvenating. Herbal infusions stimulate and balance energy flow while providing antioxidant benefits. For any Doshic Constitution. This Ayurvedic facial oil supports healthy aging with potent extracts like Ashwagandha, Shatavari, and Bacopa to calm and nourish the complexion. Specially selected to replenish the body's own antioxidants. The oil is not only moisturizing but also hydrating, which in turn controls the skin's oil (sebum) production while minimizing comedones (blackheads).

Our goal with this formulation is to refresh and revitalize the life-force in the skin, helping to keep skin soft and supple, yet firm and smooth. One will see a brighter, more even, and radiant tone. Herbs are extracted using innovative supercritical technology.

Ingredients: Safflower Oil*, Sesame Oil*, Shatavari*, Ashwagandha*, Bacopa*, Shankhpushpi*, Anantmul*, Punarnava*, Cyperus*, Licorice*, Lavender Oil*, Vitamin E, Rosemary Extract*
*Signifies Certified Organic Supercritical (CO2 extracted)

To Use: Intentionally massage the face + neck to cleanse pores. Remove with a steam towel. Enact a second cleanse. Apply a few drops after removal + leaves on the skin to nourish.

Benefits:

Nourishes younger-looking skin with 9 powerful herbal extracts
Nurtures smooth skin by plumping lines and wrinkles
Helps control oil production
Shatavari rejuvenates and promotes firmness
Ashwagandha restores and revitalizes
Bacopa calms and soothes
Punarnava energizes and warms
Supercritical extraction delivers the whole herb to your body—pure, potent, and bioavailable
Certified organic, non-GMO, sustainable
Vegan and cruelty-free, gluten-free, dairy-free, soy-free
The above statements have not been evaluated by the FDA. This product is not intended to diagnose, treat, cure, or prevent any disease.
We take pride in our mission to stay kind.
I recommend the products 100%, they work very fast and give the skin a beautiful glow
My fave! Mom loves it too
I've tried many facial oils, but the KO facial oil is by far my favorite.
Great addition to my face massage routine
Great addition to a Kansa facial massage, as it helps to increase circulation and promote lymphatic drainage, leaving the skin looking and feeling refreshed.
It's incredible!
Oil is perfect for all skin types and is deeply nourishing and hydrating. I've recommended it to many of my clients and they all love it.
I love this oil so much!
I've been using this oil for a few weeks now, and I've already noticed a significant improvement in the texture and tone of my skin.