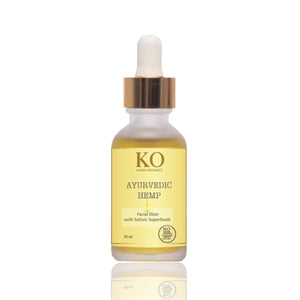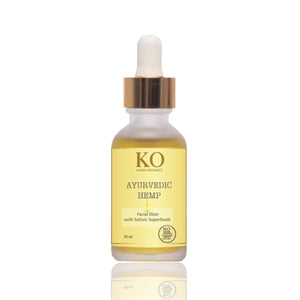 On Sale
AYURVEDIC HEMP FACIAL ELIXIR
Originated from the recipes of ancient gurus.
Our AYURVEDIC HEMP FACIAL ELIXIR is a carefully crafted blend of natural hemp and Ayurvedic herbs that deeply nourish and replenish the skin. With its deeply penetrating action and calming effects, this facial elixir helps soothe and protect the skin, while restoring its natural balance and luminosity.
For any Doshic Constitution.
Our goal with this formulation is to refresh and revitalize the life-force in the skin, helping to keep skin soft and supple, yet firm and smooth. One will see a brighter, more even, and radiant tone. Herbs are extracted using innovative supercritical technology.
To Use:
Intentionally massage the face + neck to cleanse pores. Remove with a steam towel.

Enact a second cleanse.

Apply a few drops after removal + leaves on the skin to nourish.
Benefits:
Deeply moisturizes and nourishes the skin

Improves skin texture and appearance

Helps to reduce inflammation, redness, and acne

Balances all three doshas - Vata, Pitta, and Kapha

Suitable for all skin types

Made with organic hemp oil extracted using a gentle CO2 process

Infused with a blend of Ayurvedic herbs and essential oils

Revitalizes the skin for a healthy glow

Supercritical extraction delivers the whole herb to your body—pure, potent, and bioavailable

Certified organic, non-GMO, sustainable

Vegan

and

cruelty-free

,

gluten-free

,

dairy-free

,

soy-free
We take pride in our mission to stay kind.
______________
WARNING: Any unfavorable result due to improper use and unrecommended application of the tool or any of our products to the body areas is neither the responsibility of Kansa Organics nor its affiliates.
The above statements have not been evaluated by the Food and Drug Administration. This item is not intended to diagnose, treat, cure, or prevent any disease.