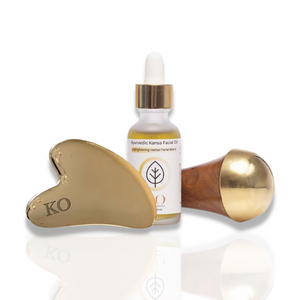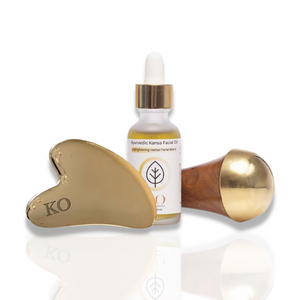 On Sale
BALANCED BEAUTY RITUAL KIT
Level up your Ayurvedic beauty regimen by getting yourself this holistic beauty regiment merging two the ancient medicinal wisdom of Ayurveda and Traditional Chinese Medicine.
Stay beautiful inside out!
Introducing… the Balanced Beauty Ritual Kit by Kansa Organics - your ultimate age-old beauty ritual, now in a ritual kit with our KO Ayurvedic facial oil.
Never use any facial tool on your bare face, always prep your skin with facial oil. We highly recommend using an Ayurvedic facial oil that is perfectly formulated to be used in conjunction with the Kansa metal for an optimum Ayurvedic skincare experience.
Ritual Kit includes:
1 KO Kansa Wand

1 KO Kansa Gua sha
1 KO Ayurvedic facial oil 15ml 
MATERIALS:
The KO Kansa tools are made out of Kansa which is believed to be the "healing metal" of ancient Indian tradition and Ayurveda - the ancient legendary medicinal practice in India. Kansa is better known as "bronze" in the modern world - an alloy (mixture) of Copper + Tin.


OIL INGREDIENTS: 
Safflower Oil*, Sesame Oil*, Shatavari*, Ashwagandha*, Bacopa*, Shankhpushpi*, Anantmul*, Punarnava*, Cyperus*, Licorice*, Lavender Oil*, Vitamin E, Rosemary Extract*
*Signifies Certified Organic Supercritical (CO2 extracted)

The KO Ayurvedic facial oil is a daily cleansing oil that features a unique blend of ingredients and evens the complexion by brightening, calming, and rejuvenating. This Ayurvedic facial oil is specially formulated with herbal ingredients all sourced from India for their holistic healing properties, not only beneficial to the skin but also brings high potential for our overall health.
What else you need to know:
Wipe oil after use. 

Keep the Kansa wand in its box for storage. 
Place the gua sha in the refrigerator/freezer to maximize the cooling calming effect of the Kansa healing metal.

Your tool should be wiped down with a dry or little moist towelette only. You may also get our Kansa Cleaning Kit for your own collection.

Do not wash with water.

Due to natural contrasts in the metal, your tool is individually unique in color and shape.
We take pride in our mission to stay kind.
Disclaimer: Each piece is uniquely handcrafted and each may have minimal differences. We hope you would honor and appreciate our team's hard work and welcome minor variations as part of its natural creation and imperfect beauty.
Learn more about:
HOW TO USE:
Learn how to use the KO Kansa Gua sha

 

here.
We take pride in our mission to stay kind.
______________
WARNING: Any unfavorable result due to improper use and unrecommended application of the tool or any of our products to the body areas is neither the responsibility of Kansa Organics nor its affiliates.
The above statements have not been evaluated by the Food and Drug Administration. This item is not intended to diagnose, treat, cure, or prevent any disease.