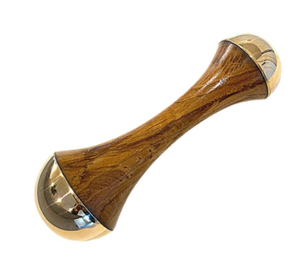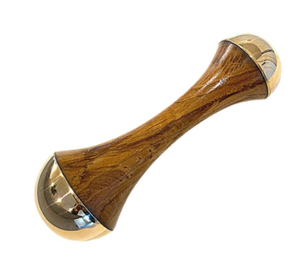 On Sale
DOUBLE-DOME KANSA WAND
The Marma and Om Therapies are merged into one holistic tool.
Introducing the Double-Dome Kansa Wand, the ultimate tool for a spa-worthy facial and body massage at home. Made out of pure Kansa metal, this wand is based on the ancient Ayurvedic Abhyanga practice.
The Double-Dome design features two dome sizes, one for the face and one for the body. The smaller dome is perfect for a delicate and precise facial massage, while the larger dome is ideal for a deeper and more invigorating body massage. The wand's textured surface provides a gentle yet effective massage that helps to improve circulation, reduce puffiness and dark circles, and even out skin tone.
BENEFITS:
The benefits of Kansa wand massage are not just limited to the skin. It also helps to reduce stress and tension in the muscles, promoting relaxation and overall well-being. The wand's copper and tin alloy is also known to balance the doshas in Ayurveda, making it an ideal tool for a self-care routine. With the Double-Dome Kansa wand, you can enjoy the benefits of a spa-worthy massage in the comfort of your own home.
It is lightweight and easy to use,
Perfect for a self-massage
Also works to use it on your partner.
Upgrade your skincare routine and give your skin and overall wellness the care it deserves with the Double-Dome Kansa wand.
We take pride in our mission to stay kind.
______________
WARNING: Any unfavorable result due to improper use and unrecommended application of the tool or any of our products to the body areas is neither the responsibility of Kansa Organics nor its affiliates.
The above statements have not been evaluated by the Food and Drug Administration. This item is not intended to diagnose, treat, cure, or prevent any disease.
So therapeutic 💛
The larger dome on the Double-Dome Kansa wand is great for using with massage oils. It glides smoothly over the skin and provides a relaxing, therapeutic massage.
So effective!
The smaller dome on the Double-Dome Kansa wand is perfect for using with facial oils or serums. It helps the products absorb better into the skin.
My holy grail 😍
I've been using the Double-Dome Kansa wand for a few weeks now and have noticed a significant improvement in my skin's texture and tone.
A game-changer indeed!
The Double-Dome Kansa wand is a great investment for anyone looking to improve their skin's appearance and overall well-being. I highly recommend it!
The metal feels so lovely!
The Double-Dome Kansa wand is incredibly easy to use. I simply glide it over my skin and let the metal domes do their magic.