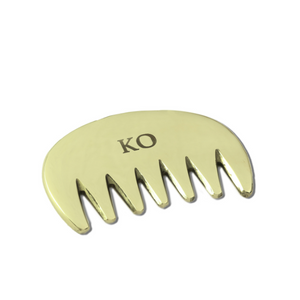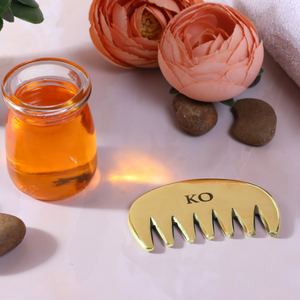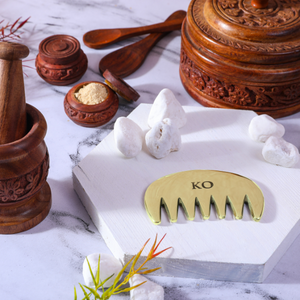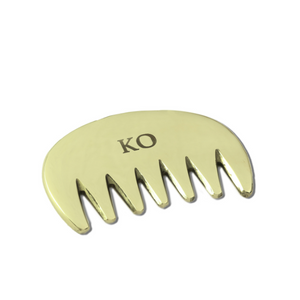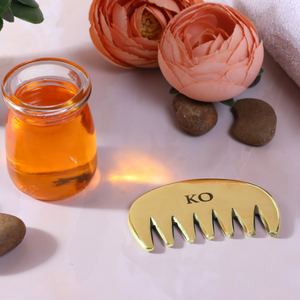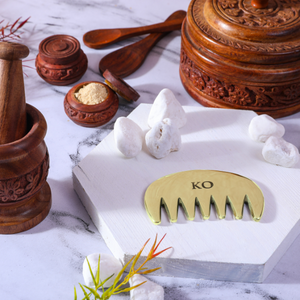 On Sale
Kansa Comb
Introducing our new Kansa Comb, the perfect addition to your hair care routine. 
The Kansa Comb is the ultimate tool, ideal for Shiroabhyanga (head) massage, and even for massaging the scalp, face, and head.
It has been used for thousands of years as a form of Ayurvedic medicine designed to treat physical, emotional, and mental well-being.
Made with 100% pure Kansa metal, this comb is designed to improve the overall health of your hair while promoting hair growth. 

Copper is known for its ability to increase blood flow to the scalp, leading to healthier hair growth, and can even help to reduce hair loss.

It's a

ntimicrobial which helps to keep the scalp clean and free of bacteria and dandruff, making it perfect for those who suffer from scalp conditions such as psoriasis or eczema.

The Kansa comb can also strengthen hair, making it less prone to breakage, reducing frizz, and making your hair more manageable.
Experience: Our Kansa comb is gentle on the scalp, making it perfect for daily use. The comb's teeth are smooth and rounded to prevent any damage to the hair or scalp. The ergonomic handle is designed for a comfortable grip and easy use. It is also lightweight and easy to carry with you wherever you go.
Material: 
The tool is made out of Kansa, believed to be the "healing metal" in ancient Indian tradition, and Ayurveda - the legendary medicinal practice in India. Kansa is better known as "bronze" in the modern world - an alloy (mixture) of Copper + Tin.

Our Kansa comb is not only beneficial for your hair but also Eco-Friendly, our comb is made with sustainable materials and is recyclable.
* Each piece of our Kansa tools is a handmade paragon of our Kansa master artisans in India.
Benefits:
deep tissue massage

relieves stress, anxiety, and depression

eases pressure

alleviates pain from tense muscles, sinus congestion, and tired eyes

helps with various hair and scalp-related issues such as dandruff, premature greying, and unhealthy hair growth & texture

enhances air circulation in the human body

releases toxins from the scalp

combats insomnia and improves healthy sleep

brings clarity to the mind - improving focus

balances the doshas
Experience the benefits of copper for yourself and add our Copper Comb to your hair care routine today!