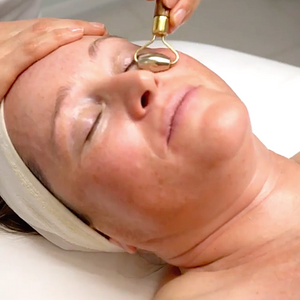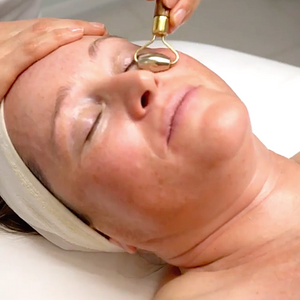 On Sale
Kansa Gua Sha - Educational Program
3 Facial Techniques Training
Learn how your mind and body interact to improve overall well-being.
KANSA GUA SHA CERTIFICATION:
Lymphatic Drainage Techniques
Ayurveda Facials
Full Body Massage
Level up your practice and get an:
Ayurveda Esthetic Certificate from Kansa Organics

Incorporate Ayurvedic spa and skincare treatments

Be part of our supportive community of Ayurvedic experts, esthetic professionals, and spa owners.

Gain access to our exclusive deals for our professionals.

Be the first to know about additional education opportunities.
 Kansa Gua sha and Facial Roller Training
LEARN MORE ABOUT:
- History + Origin of Kansa and Gua Sha
- Gua Sha Foundations
- Gua Sha Anatomy
- Lymphatic System Overview
- Lymphatic Drainage Techniques
- Sculpting + Contouring Technique
- Bonus: Ayurveda in Skincare video lecture

EDUCATIONAL COURSE CONTENT:
Download Includes:
- 90-minute Video lecture (two parts)
- Lecture slides
- KO Jiva Protocol
- KO Jiva Facial Demo Video
- KO Gua Sha and Facial Roller Protocol
- KO Gua Sha and Facial Roller Demo Video
- Bonus: Ayurveda in Skincare Video Lecture
KANSA METAL MASSAGE BENEFITS:
FOR THE BODY
The Kosha wand is designed for full-body massage to promote self-care or healing through the concept of Kosha which represents the layers of being in energetic sheaths that cover the body. Like an onion, KOSHA is described at the outermost layer first, moving onward to the deepest and spiritual self.
FOR THE MIND
Vinjana Maya Kosha- ahhh, the wisdom body. Finally, we reach the layer where deep awareness, insight, and consciousness are sought. This layer reveals desires and the motivations behind them. illuminates our choice in a situation and highlights free will. Instead of feeling or acting thoughtlessly, we make everything conscious. Some describe the as where emotions are moved past to discover bliss.
DAILY LIFE
Incorporating it into your daily routine and practice is unlocking your Anandamaya Kosha - the state of blissfulness, radiant body of peace, and state of the pure joy of being. Liberation from suffering and a feeling of oneness and connection to all things.
For more information, please email us at hello@kansaorganics.com