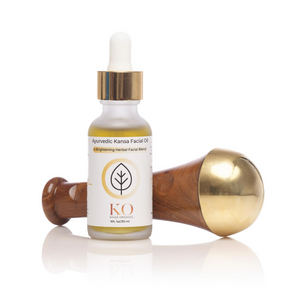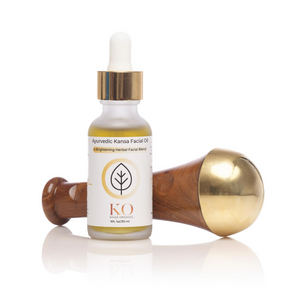 On Sale
KO Starter Self-Care Ritual Kit
THE KANSA ORGANICS SELF-CARE RITUAL KIT
Begin your journey with Kansa wands by owning the perfect set. The Marma wand is used for self-care at home with the ayurvedic Kansa oil, therefore the entire set is very beneficial to have, especially for your self-care routine.
Set Includes:
1 Marma Wand (Small)
1 Ayurvedic Facial Kansa Oil
Benefits:
Improved functioning of organ systems

Traditional massage benefits

Stimulates and regenerates tissue

Relieves energy blockages, both physical and mental

Flush toxins

Prevents aging

Nourishes younger-looking skin with 9 powerful herbal extracts
Nurtures smooth skin by plumping lines and wrinkles
Helps control oil production
Shatavari rejuvenates and promotes firmness
Ashwagandha restores and revitalize
To Use: Intentionally massage the face + neck to cleanse pores. Remove with a steam towel. Enact a second cleanse. Apply a few drops after removal + leaves on the skin to nourish.
Oil Ingredients: Safflower Oil*, Sesame Oil*, Shatavari*, Ashwagandha*, Bacopa*, Shankhpushpi*, Anantmul*, Punarnava*, Cyperus*, Licorice*, Lavender Oil*, Vitamin E, Rosemary Extract*
*Signifies Certified Organic Supercritical (CO2 extracted)
I am a licensed esthetician in Illinois. I was looking for the perfect modality to elevate my clients experience during their facial. I came across Kansa Organics and I am so glad I did!!! The Kansa wand has helped my clients by sending them into a tranquility trance of peace. They wake up glowing. It's easy to use and most definitely my favorite part of my personal evening skin routine as well.
I love my Kansa wand from Kansa Organics. I got this in early 2020, so I can really say that it serves its purpose! I have been using it since then and the dome is still intact. I'm also planning to get the KO cleaning kit to maintain its superb quality. Kudos to KO for their excellent products and services.
Namaste 🙏
The Kansa Wand is really nice.
I used it on my shoulders and neck and I immediately felt more relaxed. I feel that it releases muscle tension.
Thank you🙏🌻💛
The perfect facial tool to move stagnant lymph in my face. I use mine in the morning as part of my beauty routine. massaging my jaw line and neck is my favorite part!
Love it!
I love the massage tool! It really helps me soak in my oil at night and gives my face a great massage!