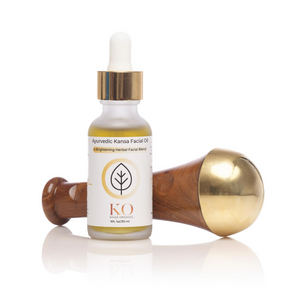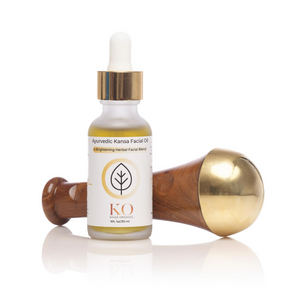 On Sale
KO Starter Self-Care Ritual Kit
THE KANSA ORGANICS SELF-CARE RITUAL KIT
Begin your journey with Kansa wands by owning the perfect set. The Marma wand is used for self-care at home with the ayurvedic Kansa oil, therefore the entire set is very beneficial to have, especially for your self-care routine.
Set Includes:
1 Marma Wand (Small)
1 Ayurvedic Facial Kansa Oil
Benefits:
Improved functioning of organ systems

Traditional massage benefits

Stimulates and regenerates tissue

Relieves energy blockages, both physical and mental

Flush toxins

Prevents aging

Nourishes younger-looking skin with 9 powerful herbal extracts
Nurtures smooth skin by plumping lines and wrinkles
Helps control oil production
Shatavari rejuvenates and promotes firmness
Ashwagandha restores and revitalize
To Use: Intentionally massage the face + neck to cleanse pores. Remove with a steam towel. Enact a second cleanse. Apply a few drops after removal + leaves on the skin to nourish.
Oil Ingredients: Safflower Oil*, Sesame Oil*, Shatavari*, Ashwagandha*, Bacopa*, Shankhpushpi*, Anantmul*, Punarnava*, Cyperus*, Licorice*, Lavender Oil*, Vitamin E, Rosemary Extract*
*Signifies Certified Organic Supercritical (CO2 extracted)