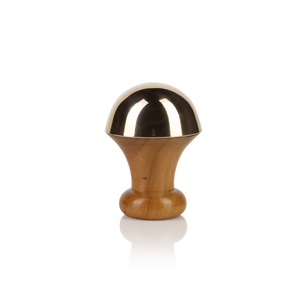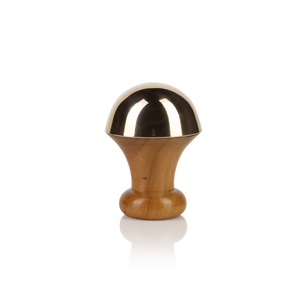 On Sale
Kansa Eye Flowies Wand
Enrich your holistic beauty + wellness ritual with the ancient wisdom of Ayurveda
In Ayurveda, regimens are well-planned to benefit not only our beauty but also our overall health, as beauty is being healthy from the inside out. Hence, our enduring hard work to bring you the ultimate holistic tools for your beauty and wellness rituals.
Introducing our Kansa Eye Flowies Wand
Eye Flowies Wand is this interesting smallest Kansa massage tool handmade in India - the latest version of our Kansa wand collection. As an Ayurvedic company, it is an honor to create new innovative wellness tools as a product of our continued mission of promoting holistic wellness with the guidance of Ayurveda. 
The KO Eye Flowies Wand can be used to de-puff, soothe, and firm the delicate eye area, and can also be used for the face like the other Kansa wands for an ultimate facial Kansa massage. 
BENEFITS: 
Depuffs the eye area

Reduces excess Pitta coming from the eyes (as the seat of Pitta dosha)

Firms, lifts and sculpts the face

Boost collagen production

Supports lymphatic drainage

Improves healthy circulation in the skin

Draws out toxins/Pulls out the acidity from the skin

Helps decrease inflammation

Releases muscle tension 

Eases muscle pain

Promotes mindfulness against lethargy, anxiety, insomnia, and stress
Learn more about:
Benefits of Ayurvedic massage

Benefits of Lymphatic drainage

Benefits of Ayurvedic oils

Take the dosha quiz to find out the best holistic regimen for you
HOW TO USE:
Learn how to use the KO Kansa Eye Flowies here.
We take pride in our mission to stay kind.
______________
WARNING: Any unfavorable result due to improper use and unrecommended application of the tool or any of our product to the body areas is neither the responsibility of Kansa Organics or its affiliates.
The above statements have not been evaluated by the Food and Drug Administration. This item is not intended to diagnose, treat, cure, or prevent any disease.