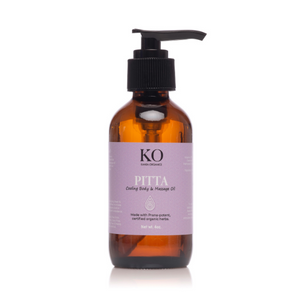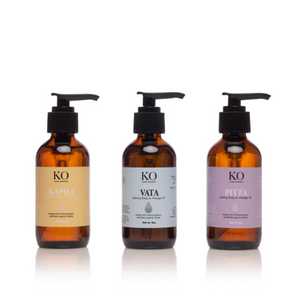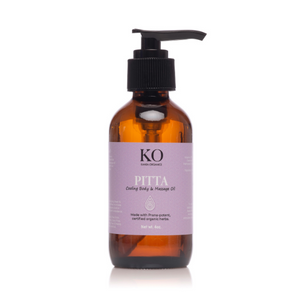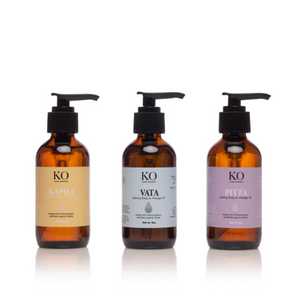 On Sale
PITTA - THE COOLING BODY & MASSAGE OIL
PITTA - THE COOLING BODY & MASSAGE OIL
Description:  A velvety blend of Rose, Geranium, Palmarosa, Cyprus, and Nutmeg work to clear heat by strengthening the cooling functions of the body and calming the mind. Perfect for those seeking to pacify and balance Pitta, the fire constitution. Excellent for use as an all-over daily moisturizer. Herbs are extracted using innovative supercritical technology.
Ingredients:
Sesame Oil*, Cyperus*, Rosa centifolia*, Geranium*, Anantmul*, Nutmeg*, Palmarosa*, Vitamin E, Rosemary Extract*
*Signifies Certified Organic Supercritical (CO2 extracted)
To Use: Apply liberally after bathing or use as a massage oil. Apply directionally in sweeping motions towards the heart to stimulate lymph flow and detoxification.
Benefits:
Soothes inflammation associated with excess heat

Perfect for those seeking to pacify Pitta, the fire constitution

Supports the body's natural cooling function

Nurtures a steady, serene mind

Cyperus calms muscle and skin heat

Rose, geranium, palmarosa, and nutmeg cool and quiet the mind

Organic sesame oil deeply nourishes and moisturizes skin

Supercritical extraction delivers the whole herb to your body—pure, potent, and bioavailable

Certified organic, non-GMO, sustainable

Vegan and cruelty-free, gluten-free, dairy-free, soy-free
The above statements have not been evaluated by the FDA. This product is not intended to diagnose, treat, cure, or prevent any disease.
We take pride in our mission to stay kind.