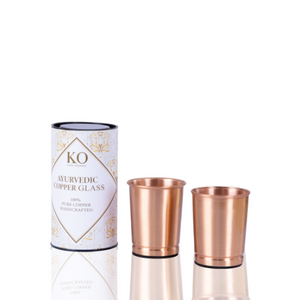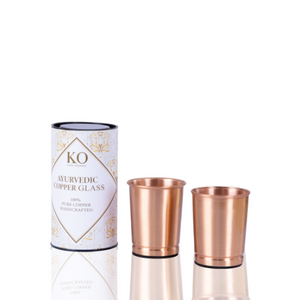 On Sale
Copper Cups - Seamless
These 100% copper cups are the perfect accessory for your hydration needs! Copper helps keep water cool and also provides anti-microbial, antimicrobial, and anti-inflammatory benefits. Enjoy the health benefits of copper while staying hydrated the natural way!
Sages since the ancient times of India traditionally drink from their pure Copper food utensils. In Ayurveda, storing water in a copper vessel is believed to potentially balance all the three doshas in our body, (Kapha, Vata and Pitta) by positively charging the water with its antimicrobial properties and healing benefits. 
Handmade in India, brought to you by Kansa Organics.
Inclusions:
Features:
Brand: Kansa Organics

Material: Pure Copper

Design:

 Seamless

, leak-proof


Microwave safe: No
Benefits:
Purification process:

 

Copper is proven to be naturally antimicrobial and can potentially kill all the microorganisms (present in the water) when stored in a Copper vessel -- such as molds, fungi, algae, and bacteria, that could be harmful to the body. 

Supports the body's pH (acid-alkaline) balance

May help improve the immune system
Precautionary Tips:
Always ensure that the bottle you are using is actually made of copper.

Before using, always rinse the bottle using a natural acidic solution such as lemon and water.

To get the most benefit from your copper bottle, fill it up the night before using it.
We take pride in our mission to stay kind.