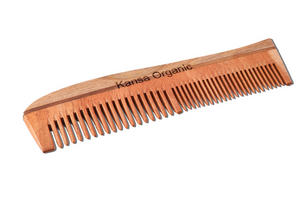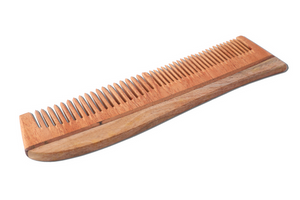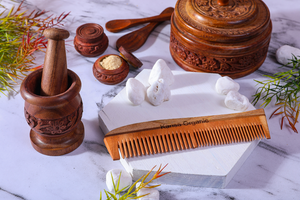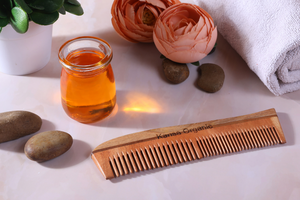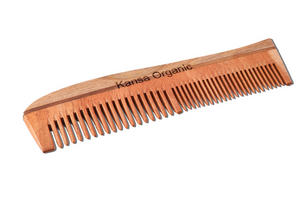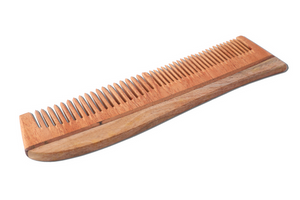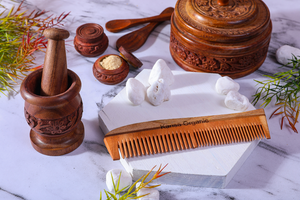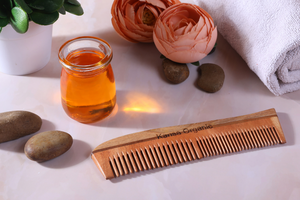 On Sale
Neem Comb
The Neem Comb is a traditional hair care tool made from the wood of the neem tree. It is widely used in Ayurvedic hair care for its many benefits. 
The comb's teeth are finely spaced and rounded to gently massage the scalp and stimulate blood flow, promoting healthy hair growth. The neem wood itself is naturally anti-bacterial and anti-fungal, making it effective in preventing dandruff and lice. Regular use of a neem comb can also help to strengthen hair, reduce frizz, and improve overall hair health.
Additionally, Ayurveda considers neem as a natural remedy for various hair-related issues like hair fall, dandruff, and scalp infections. The Neem comb is a must-have tool for anyone looking to improve their hair care routine and promote healthy, shiny hair.
Benefits:
Gentle massage of the scalp and stimulation of blood flow for healthy hair growth

Prevention of dandruff and lice due to natural anti-bacterial and anti-fungal properties of neem wood

Helps to cool down the scalp and balance the Pitta dosha

Strengthening of hair and reduction of frizz

Improvement of overall hair health

Natural remedy for hair fall, dandruff, and scalp infections as per Ayurveda

Promotes healthy, shiny hair

Chemical-free hair care

Eco-friendly and sustainable

Long-lasting and durable

Suitable for all hair types

Can be used by both men and women

The traditional and authentic way of hair care.
Material:
The tool is made of Neem wood, a tree native to the Indian subcontinent. The wood from this tree has been used for centuries in Ayurveda, the traditional Indian system of medicine, for its medicinal properties.
In Ayurveda, neem wood is considered to have antimicrobial properties and is used for various purposes such as cleaning teeth and maintaining oral hygiene, skincare, and also for hair care.
* Each piece of our tools is a handmade paragon of our master artisans in India.